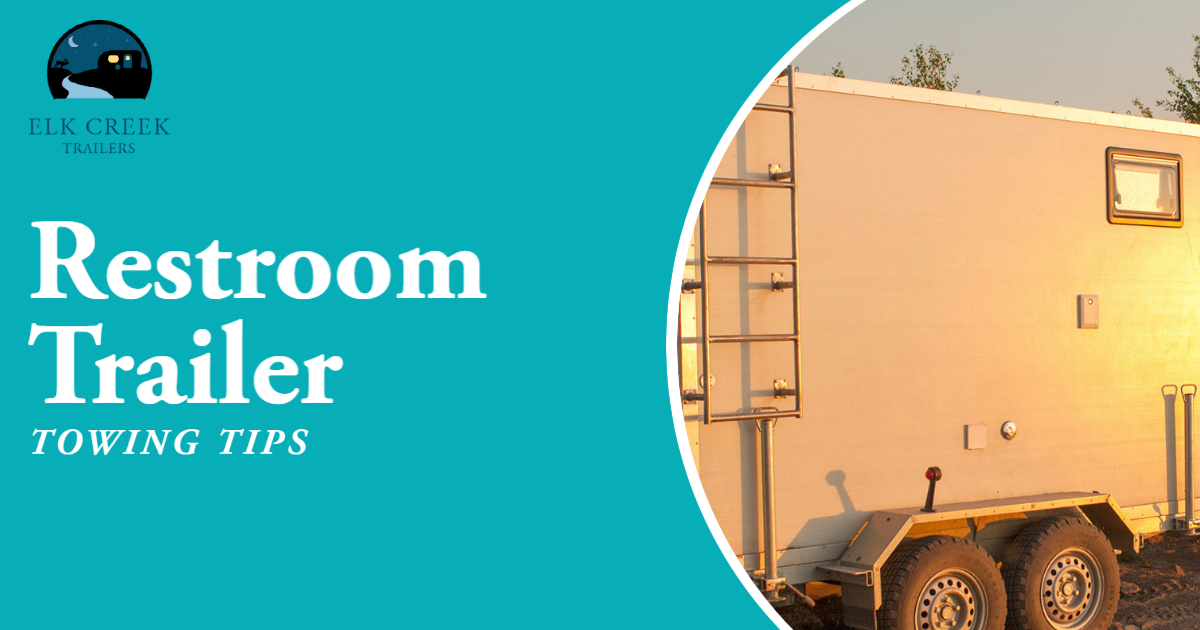 If you're an experienced RV or trailer driver, then restroom trailer towing probably isn't new to you. But even if you're an old pro, there are a few things you need to know before hitting the road with one of these special trailers. So heed these tips, and your trip will be trouble-free.

1. Check Your Trailer Tires

People often forget to check the tire pressure on their
restroom trailer
, but it's just as important as checking the pressure on their pickup truck. Make sure to inspect the trailer tires for dry rot and cracking, especially if the trailer hasn't been used in a while.
Even if the tires look fine, they can still age over time and lead to tire failure. Also, be sure to check the owner's manual to see what pressure your tow vehicle's tires should be at for towing. Don't forget to tighten the wheel lug nuts on the trailer and tow vehicle to the correct torque.
2. Towing Vehicle Maintenance

Before embarking on your next towing road trip, make sure your vehicle for towing is in good condition.

Have your oil and filter changed. Check the brake pads to make sure they have plenty of life left. The engine coolant should also be filled to the proper level in the reservoir, and the transmission fluid topped off.

If your restroom trailer has brakes, be sure to have them checked and adjusted. Don't forget to grease the wheel bearings as well; especially if traveling long distance.

Related Content
Check out our guide on how to winterize your restroom trailer. Cold weather is dangerous for your pipes and
winter wreaks havoc on restroom trailers
, often causing a lot of expensive damage that could be easily prevented with some careful preparation. Plumbing is especially susceptible to the harsh conditions winter brings, so it's important to take measures to protect your trailer from moisture and freezing temperatures.
3. Match Your Trailer Hitch Ball Size

There are three standard hitch ball sizes: 1⅞ inches, 2 inches, and 2 5⁄16 inches. Make sure the size of your hitch ball corresponds with that of your restroom trailer's coupler. Incorrectly sized hitch balls are the No. 1 cause of trailer accidents. Just because it fits doesn't mean it will be safe, so always double-check the actual size before heading down the road with your trailer.

4. Be Prepared to Change a Flat Tire

It's important to always have a spare tire for your trailer, just in case you get a flat. Make sure you also have a lug wrench that's specific to your trailer wheels, as well as a jack that will work with your trailer. That way, if you ever have to change a tire on the side of the road, you'll be prepared.

5. Use Trailer Safety Chains

All
portable restroom trailers
should be equipped with safety chains that hook up to the hitch. Safety chains are important for two reasons:
1) they keep the trailer attached to the tow vehicle in case of an emergency.
2) they help prevent the trailer from dragging on the ground.
Make sure to cross the chains (attach them perpendicular to each other), as this will create a "cradle" for the tongue of the trailer if it becomes disconnected. Be sure to leave enough slack in the chains so that they don't drag on the ground when making sharp turns.
6. Check All Restroom Trailer Lights

Be sure to check the electrical wiring system on your trailer before taking your restroom trailer on the road.

Make sure the wires are loose enough to make turns without getting disconnected from the tow vehicle, but not so loose that they touch the ground.

With a partner, confirm that all of the trailer's running lights, brake lights, turn signals, and hazard lights are working correctly in correlation with the tow vehicle.

7. Consider Wider Tow Mirrors

If your trailer is wider than your tow vehicle, look into getting wider aftermarket tow mirrors to help you see the trailer's blind spots while driving and to aid rear visibility when backing up.

Blind spot warning systems are becoming more and more common in new trucks and SUVs, so if you're looking for an extra level of safety while towing your restroom trailer, that might be the option for you.

8. Get a Bigger Fuel Tank or Truck

An often overlooked component is the fuel tank of your towing vehicle. Keep in mind that if you are using these trailers for Forest Service purposes you will often be in very remote areas with no gas.

It's a good idea to get a full-sized pickup with a larger than standard fuel tank. With more fuel on board, you won't have to worry about running out of gas while traveling down remote country roads. Or at the very least purchase an additional fuel tank that you can bring with you on more long-distance trips.

8. Get a Bigger Fuel Tank or Truck

If you will be unhooking your restroom trailer from the tow vehicle, be sure to place wheel chocks in front of and behind the trailer's tires to keep it from rolling away.

This will ensure a safe and easy unhooking process.

You'd be surprised how often we hear of new owners who forget to do this and have their trailer rolling down a hill after unhooking.

Frequently Asked Questions About Restroom Trailer Towing
+
1. Check Your Trailer Tires
2. Ensure Your Towing Vehicle Maintenance
3. Match Your Trailer Hitch Ball Size
4. Be Prepared to Change a Flat Tire
5. Use Trailer Safety Chains
6. Check All Restroom Trailer Lights
7. Consider Wider Tow Mirrors
8. Get a Bigger Fuel Tank or Truck
+
If you're towing with ST tires, it's best to keep your speed at 60 MPH or lower. Some manufacturers even recommend going no faster than 60 MPH. Driving a bit slower than the other cars on the highway can help you avoid having to make lane changes as often.
+
It's really easy to tow a restroom trailer. As you drive forward, the trailer will follow you in a very natural way. Provided your vehicle is rated to tow your trailer, you won't find it hard to go up hills, brake, or do most of the other things you would normally do while driving.
+
There is no hard or fast rule on how many miles a day you can town your restroom trailer, but we have found that traveling at a speed of 60mph usually gets us around 350 miles per day. At this point it's always good to check your vehicle and trailer for any issues.