Restroom trailers provide numerous benefits to you and your guests. Anyone who has to use a
restroom trailer
will love the VIP treatment. All of their bathroom needs will be met.
Restroom trailers provide an incredible opportunity for business owners to provide their customers or employees with an upscale, luxurious place to use restrooms. They come with an enhanced comfort level and a touch of class that is boutique to the bathroom industry.
Below are the top 9
benefits of restroom trailers
.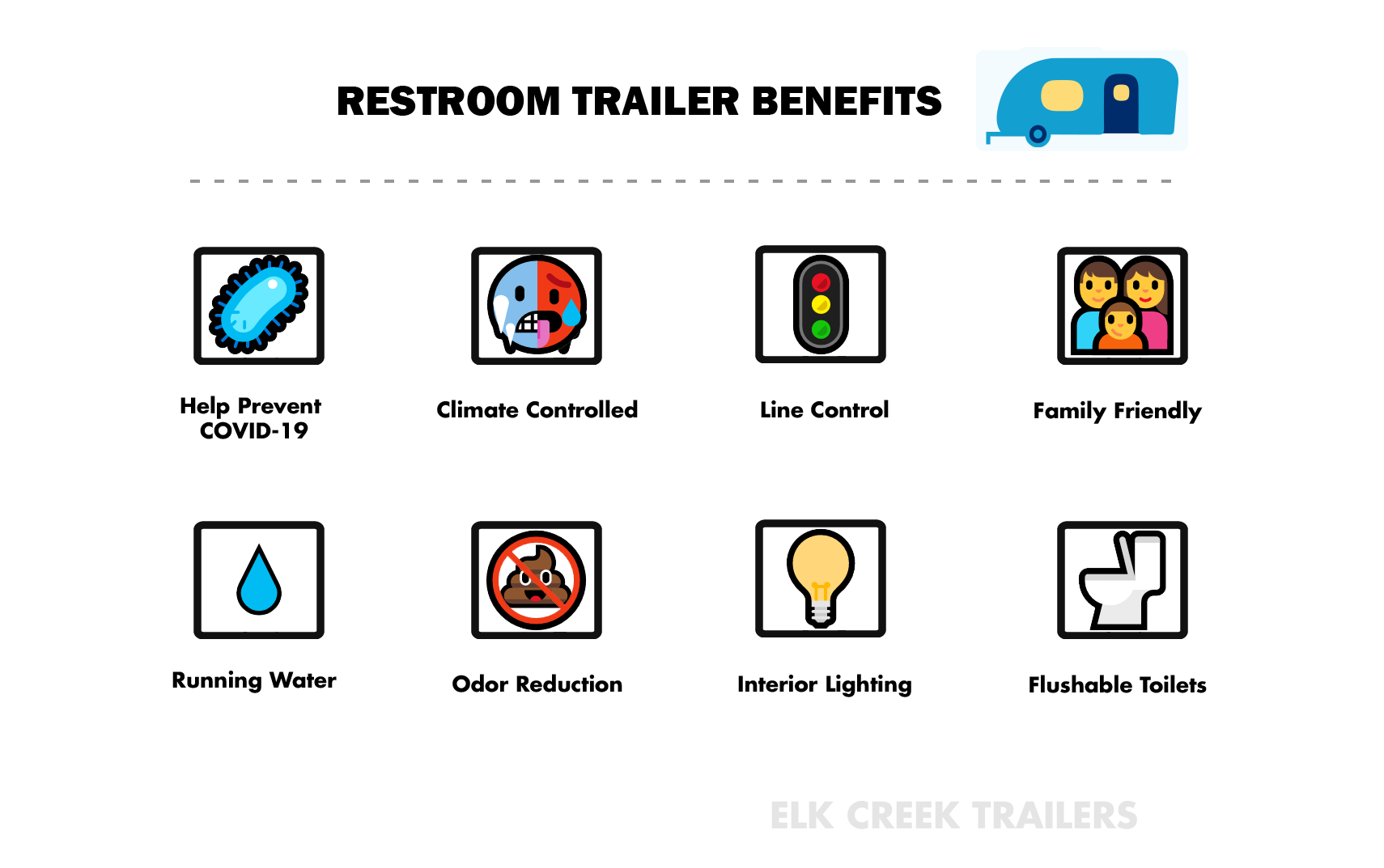 Appearance

Portable restroom trailers
are the ultimate way to make your event comfortable, stylish and convenient.
They come in a variety of styles, befitting any occasion or setting. For those who want to avoid the stigma associated with porta-potties, we offer sophisticated and upscale trailer designs that not only look good but offer all the amenities you need for a successful event.
From urinals to changing stations, we have everything covered.
Help Prevent The Spread of COVID-19

COVID-19 is known to spread through contact and droplet transmission.

The viruses can be transmitted by touching not only infected people but also contaminated objects or surfaces.

This means that port a potties can be a hotbed for COVID-19 activity, because there is no ability to wash your hands.

Washing your hands is one of the most effective actions you can take to prevent infections, including the COVID-19 virus.To reduce the spread of pathogens and prevent infections and the spread of pathogens, including the COVID-19 virus.

Climate Controlled Interior

Most port a potties can be overly hot or cold in summer and winter months, which can cause discomfort for guests - Most restroom trailers come standard with heating and air conditioning elements, providing guests with instant relief during hot or cold months.

Control The Line At Your Event

Restroom trailers usually have multiple stalls, large interior cabins, entry and exit doors for easy accessibility.

This design reduces wait time by allowing guests to hop right in and out of the restroom quickly.

Family Friendly Space

Bathroom trailers provide ample room for parents and family members accompanying their child.

Interiors of restroom trailers are significantly larger than porta potties. Trailers provide a place for parents to rest and easily oversee their child while they are visiting the restroom.

Guests Appreciate Running Water

Without running water your guests will certainly feel unclean and unsafe due to the risk of pathogens spreads from dirty hands and infected surfaces.

Restroom trailers solve this by providing your guests with hot or cold water running sinks.

Trailers can be customized with additional amenities such as motion activated faucets, luxurious vanities, and granite countertops.

Odor Reduction Technology

Advances made in chemical and mechanical engineering, two fields that have given restroom trailers a significant advantage in the reduction of odors.

Restroom trailers use high-efficiency exhaust systems and have plumbing that catches odors and traps them until your event ends.

Interior Lighting Provides A Better Bathroom Experience

Lighting in restroom trailers increases guest safety while also creating a serene atmosphere.

The use interior and exterior lights makes it easier for guests and the hard of seeing to navigate through the trailers during evening hours.

Flushable Toilets Are Standard
Restroom trailers feature a conventional plumbing system which operates much like a home bathroom.

They have flushable toilets, and fresh water is supplied with each flush, which helps keep the toilets clean for the next guest.

Port a potties on the other hand can get a little messy..

Ready to Get Started with Restroom Trailers?

Contact us today for a quote on your next restroom trailer.