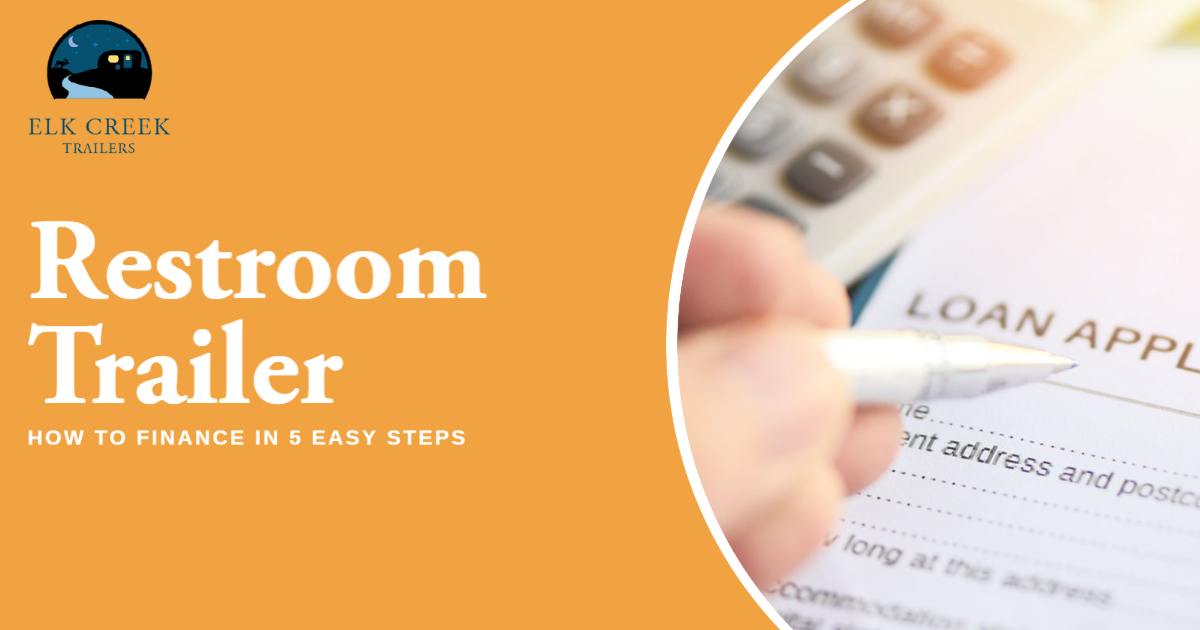 If you're ready to buy an Restroom Trailer, set yourself up for success by taking these steps.

1. Set a budget

Before you start shopping, figure out what you need in a restroom trailer and what your budget can accommodate.

On the low end, you can find a towable standard restroom trailer type for as low as $20,000. High-end restroom trailers with more bathrooms and features can cost more than $100,000.

Consider how large you need the restroom trailer to be — a small trailer is less expensive and easier to park, but it may not be the right choice if you have large events or many employees to service.

When you're budgeting for a Restroom Trailer, remember to consider all the associated costs. Things like mileage, safety, model and drivability are important, as well as recurring costs like maintenance, fuel and insurance.

Keep in mind that loan terms can vary greatly - from one to twenty years. Make sure you're comfortable with the monthly payments before signing up. A ten-year loan will have higher monthly payments but you'll pay it off faster. A 20-year loan is more affordable on a month-to-month basis, but will ultimately cost more in interest.

Key takeaways: When creating your Restroom Trailer budget, remember that there's more to the cost than the sticker price. Things to consider include delivery and set-up, vehicle features, and necessary permits.

2. Save a down payment

How much you need to put down to buy a restroom trailer depends on the manufacturer. Most require at least 10 percent of the purchase price, but some want 20 percent.

A larger down payment can help reduce your monthly payments and may even get you a lower interest rate. Current restroom trailer loan interest rates start around 4.29 percent, and the rate you get depends on your credit score and other factors.

If you have enough in savings but don't want to spend it all at once, you might consider putting a portion of the expense on a credit card. However, be careful of high interest rates and hidden fees if you're unable to pay off the balance in a timely manner.

Key takeaways: When considering purchasing a restroom trailer, be prepared to put down at least 10 to 20 percent of the total cost
Related Content
If you're ready to buy an Restroom Trailer, set yourself up for success by taking these steps. Check out our guide on
restroom trailer financing
, including our recommendations for restroom trailer financing lenders.
3. Check your credit score

The interest rates on restroom trailer loans vary depending on your credit score. In order to get the best interest rate, you will need a credit score of 700 or higher.

Before purchasing a restroom trailer, it is important to check your credit score and take any actions necessary to improve it. Keep in mind that different lenders use different credit reports when reviewing loan applications.

Key takeaways: Knowing your credit score is essential when it comes to getting a reasonable interest rate on a restroom trailer.

4. Decide which type of loan you want

There are two types of loans you can get to finance a restroom trailer: secured and unsecured.

Unsecured personal loans are faster to obtain and you don't have to worry about your restroom trailer getting repossessed if you can't make payments. On the other hand, secured vehicle loans have lower interest rates and may be easier to obtain if your credit score is below average.

Key takeaways: There are many different types of loans available for you to finance your vehicle. You don't have to lock yourself into a traditional restroom trailer loan. It's important to research what type of loan is best for you.

5. Compare lenders

To get the best deal on financing, it's a good idea to compare offers from multiple lenders. This includes banks, credit unions, and online financing companies, as well as the company you bought your restroom trailer from.

Shopping around for financing can save you thousands of dollars over the course of your loan. For mortgages, for example, Freddie Mac found that getting five rate quotes saves borrowers an average of $3,000 over the life of the loan. The savings potential on a restroom trailer loan could be just as significant.

The terms of the loan may also vary significantly from lender to lender. So it's important to be aware of any restrictions that a particular lender might have. For example, some lenders might only offer a certain term for the loan, or have a minimum amount that they will finance. It's also important to be aware of any restrictions based on the use of the restroom trailer. For example, one lender might view a horse trailer with living quarters differently than a restroom trailer with sleeping quarters attached.

Key takeaways: Doing your research and shopping around for the best loan terms can save you thousands over the life of a restroom trailer loan.

Frequently Asked Questions About Restroom Trailer Financing
+
Just like any other loan, an restroom trailer loan requires a careful assessment of your credit and finances? When underwriting restroom trailer loans, lenders look for a strong credit history and solid income that shows you're likely to repay your loan. If your credit isn't in great shape, it may be hard to get approved for an restroom trailer loan. However, some lenders specialize in providing restroom trailer loans for people with bad credit by evaluating applications on a case-by-case basis, rather than just looking at credit history. So don't hesitate to apply if you need a restroom trailer loan – even if your credit isn't perfect.
+
The interest rates for Restroom Trailer loans vary from about 4.25% up to 11%, depending on the loan amount, term and creditworthiness of the borrower. However, these are just starting rates and can be much higher for borrowers with poorer credit. It's important to shop around to find the best interest rate that fits your needs. A slightly lower interest rate can make a big difference in the long run.
+
No, an auto loan is not typically enough to cover the cost of a restroom trailer. Restroom trailers are usually much more expensive purchases, so the loans are larger and require a more in-depth underwriting process. Lenders often consider factors such as your liquidity, net worth and cash flow—factors that usually aren't reviewed for auto loans.
+
This depends on the lender. Most lenders allow co-signers on large loans, but it is ultimately up to the lender's discretion. Remember that if someone co-signs on an restroom trailer loan with you, they are equally liable for the debt and it will show up on their credit report. Co-signing can also affect their ability to qualify for future loans. If you don't need a co-signer for financial reasons, it is typically best to avoid joint credit applications.